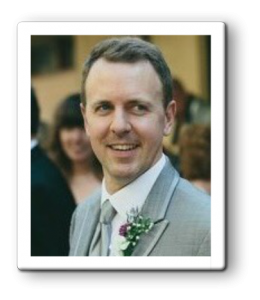 Jay Tuttle
I was born in the early 70's to church musicians and would become the eldest of four boys; all headed through the church choir of St. Simon the Apostle under the tutelage of Dr. Derek Holman, in Toronto.  It was with Dr. Holman that my passion for choral music became most apparent.   After my voice broke, I bounced around between sections for a couple of years, before being committed to the lyric baritone section, where I would grow my deepest roots.
My parents shipped me off to the local opera conservatories, scores in hand for auditions. I was eventually accepted into Wilfred Laurier University, where I began taking voice lessons with Victor Martens.  A few years later, they even gave me a degree for my troubles!  After a couple of magical months at 'The Banff Centre for Fine Arts', working on contemporary French Opera repertoire, I came back to Toronto and began singing with local ensembles, including the Elora Festival Singers, The Toronto Mendelssohn Choir, and The Mississauga Choral Society (did I mention I am Canadian?).  I think it was around this point that I realised that my love for singing was actually a love for small ensemble groups, led by people who know what they're doing, in repertoire from the 'Early Music' genre".
Upon moving to Los Angeles in 2001, I got involved with the best ensembles I could find: LA Chamber Singers, Mladi, Tesserae, Musica Angelica, Bach Collegium San Diego, D'Angelis Vocal Ensemble, and LASchola.  Of all the things I miss about Los Angeles, the LAschola sits at the top, uncontested.  We began as a trio performing the Byrd: Mass for Three Voices within the context of the Liturgy in an Anglo-Catholic parish in Hollywood, CA.  We built it up to five or six singers, sometimes reaching as high as sixteen.  I think directing a group of fine sight-readers like this had always been a dream of mine.
Nowadays, I live fifty miles west of Washington, D.C., in 'Horse Country'.  I love driving into Georgetown for my church choir and National Cathedral singing duties. Beyond that, I'm blessed to have a most incredible wife, and a most rowdy two-year-old.  For the past few years, I've been coaching high school sports, when not singing or parenting.  His Majesty's Men has been the perfect opportunity for me to collaborate with brilliant musicians, and most definitely has been worth the trips to Chicago.